Manhattan District Attorney's Office - Assistant District Attorney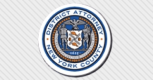 The Manhattan District Attorney's Office is currently seeking candidates committed to public service for positions as Assistant District Attorneys in the Trial Division for our Spring 2022 Assistant District Attorney class.  Preference is given to candidates who have 3-5 years of experience, prior prosecutorial experience is a plus, and are admitted to the NYS Bar. A three-year commitment to serve in the office is required. Pursuant to Public Officers Law Section 3(1), United States citizenship is required of all Assistant District Attorneys upon commencement of their employment, as is New York State residency. The Manhattan District Attorney's Office is an Equal Opportunity Employer.
Application Process
The successful applicant will complete four rounds of interviews:
First interview with one Hiring Board member
Panel interview with three Hiring Board members
Executive Panel interview with three Executive Assistant District Attorneys
Interview with District Attorney Alvin L. Bragg, Jr.
The office considers academic achievement as only one indicator of an applicant's potential. Equally important are qualities of personal character; the office seeks applicants with integrity, judgment, and maturity. Prior leadership experience and a demonstrated commitment to public service are also valued qualities. Assistant District Attorneys are selected solely on the basis of merit, without regard to political affiliation. We are an Equal Opportunity Employer.
How to Apply
All applications must be submitted online. Applicants will be required to attach a cover letter, resume, law school transcript, writing sample, and the names and telephone numbers of three professional references. Only complete applications are reviewed. Cover letters should be addressed to:
Ms. Robin R. Edwards
Director, Legal Hiring Unit
New York County District Attorney's Office
One Hogan Place
New York, NY 10013